Hans prisade bild av ett vulkanutbrott blev sista pusselbiten för naturfotografen Mats Anderssons nya fotobok – där hans bilder verkligen får breda ut sig. Boken skildrar natur som måste bevaras och har megaformat. 
Big on the culture pages of today's newspaper.
– His prized image of a volcanic eruption became the final piece of the puzzle for nature photographer Mats Andersson's new photo book - where his images really get to spread. The book depicts nature that must be preserved and has a mega format.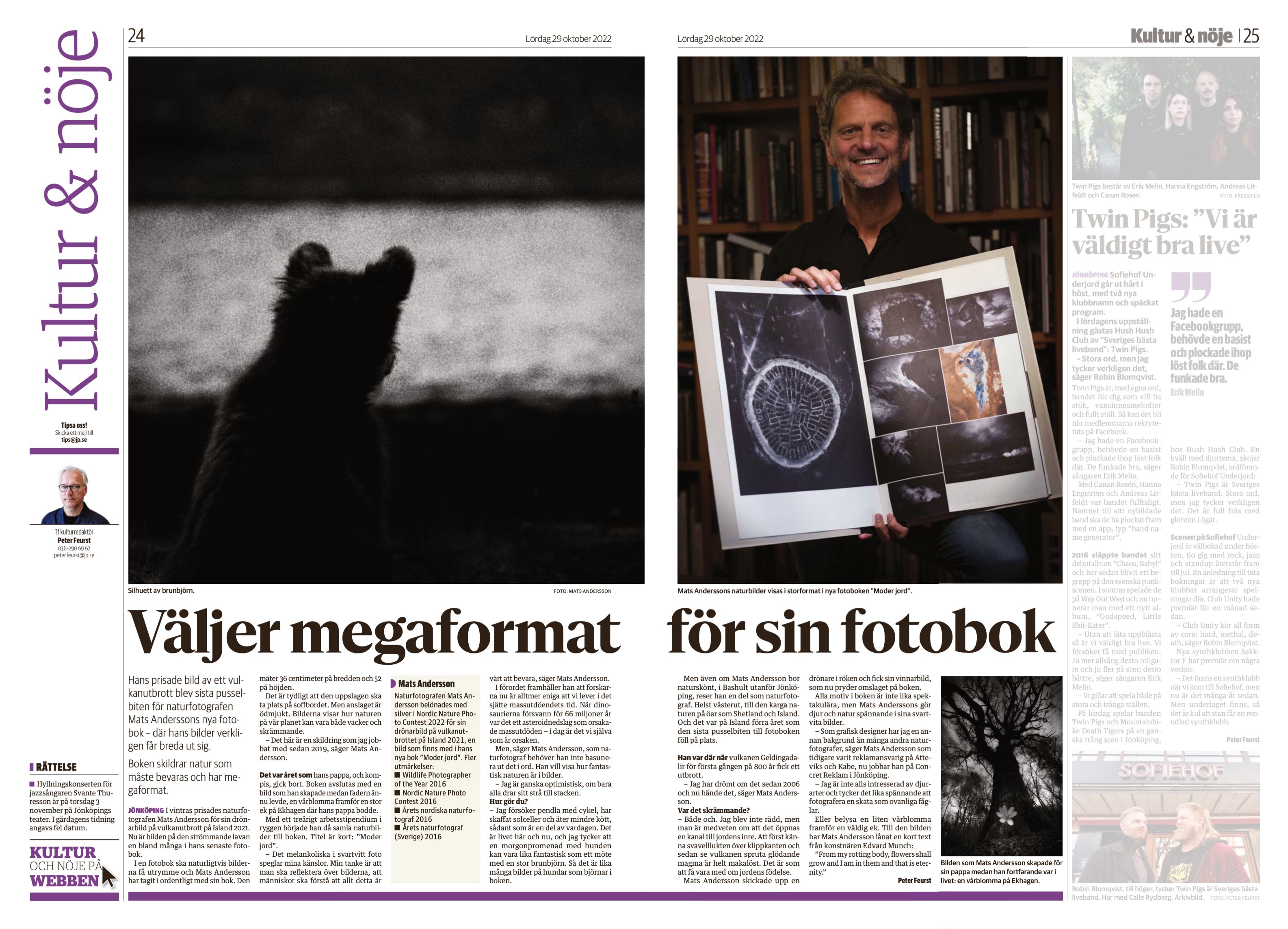 I vintras prisades naturfotografen Mats Andersson för sin drönarbild på vulkanutbrott på Island 2021. Nu är bilden på den strömmande lavan en bland många i hans senaste fotobok.
I en fotobok ska naturligtvis bilderna få utrymme och Mats Andersson har tagit i ordentligt med sin bok. Den mäter 36 centimeter på bredden och 52 på höjden. 
Det är tydligt att den uppslagen ska ta plats på soffbordet. Men anslaget är ödmjukt. Bilderna visar hur naturen på vår planet kan vara både vacker och skrämmande.
– Det här är en skildring som jag jobbat med sedan 2019, säger Mats Andersson.
Det var året som hans pappa, och kompis, gick bort. Boken avslutas med en bild som han skapade medan fadern ännu levde, en vårblomma framför en stor ek på Ekhagen där hans pappa bodde.
Med ett treårigt arbetstipendium i ryggen började han då samla naturbilder till boken. Titel är kort: "Moder jord".
– Det melankoliska i svartvitt foto speglar mina känslor. Min tanke är att man ska reflektera över bilderna, att människor ska förstå att allt detta är värt att bevara, säger Mats Andersson.
I förordet framhåller han att forskarna nu är alltmer eniga att vi lever i det sjätte massutdöendets tid. När dinosaurierna försvann för 66 miljoner år var det ett asteroidnedslag som orsakade massutdöden – idag är det vi själva som är orsaken … /Text: Peter Feurst, JP
> Läs hela artikeln här
> Läs artikeln på JP.se
> Köp boken