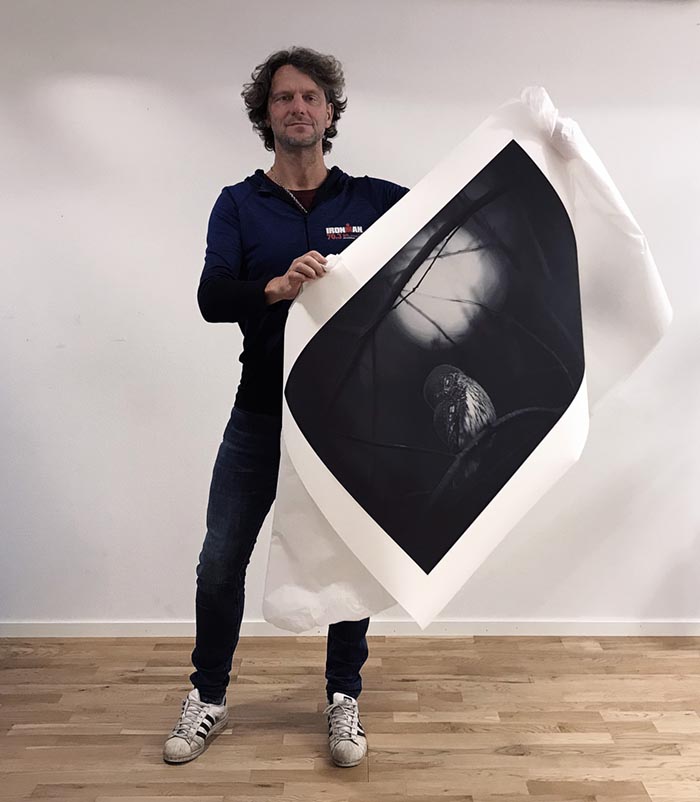 Recently, Mats Andersson's image "Moonlight requiem" was sold to England for 4.250 USD (SEK 41,000). The following week another copy was sold to Sweden for 4.600 USD (SEK 44,000). The last copy (3/3) costs 5.000 USD (SEK 48,000). Maybe this is the Swedish record - the most expensive nature image?
The shot was made in Sweden in the small village of Bashult. The image got a lot of attention in 2016 when it won the black and white category in Wildlife Photographer of the Year.
- Of course, I am very happy that this picture has gotten so much attention. Winning with an image in Wildlife Photographer of the Year makes the image truly reach out to the world. This has obviously meant that buyers have become interested. So far, the picture has raised 31.000 USD (SEK 300,000). (The image was printed in 3 different sizes; 10 copies 40x30 cm, 6 copies 80x60 cm and 3 copies 100x75 cm). Only one copy is left; 100x75 cm edition 3/3.
How important is limited editions?
- Many photographers make too large editions. It becomes more attractive with limited edition. The famous photographer Hasse Persson in Borås early told me; you have to raise your prices significantly. I followed his advice - and all of a sudden I sold more pictures.
- My online store is also part of my success - here I reach customers all over the world.

> Swedish magazine Fotosidan 191126